Arexpo

Headquarters
vIA CRISTINA BELGIOIOSO, 171 – 20157 Milano
Macro sector
Agency for development
Micro sector
Asset Management Company
Arexpo, a publicly controlled company, is tasked with engaging with extensive areas in need of regeneration to encourage their transformation into vibrant places through successful private-sector partnerships. The role of the company is to provide support in in all phases of the process of transforming complex areas, from analysis, organization, and planning to design and implementation, also providing procurement support and facilitating dialogue and the formation of partnerships with private operators interested in investing on specific contextes. Arexpo is a gateway to Italy because each project carried out by AREXPO implies the direct commitment of the national and local governments. Arexpo relies on a network of relationships with national and international partners of excellence in the fields of finance, urban development, higher education, research, and innovation. Majority shareholders are public institutions: Ministry of Economy and Finance, Lombardy Region, Municipality of Milan, Metropolitan Milan, Municipality of Rho.
Arexpo has already initiated various regeneration projects in Lombard municipalities, supporting each administration in giving value to its territory throughout new functions and facilities. Among others, the ongoing projects consists of: the creation of a new innovation hub in Seregno; the valorization and conversion of three brownfields in Lainate, trasforming the site of the former city hall in Rho with the construction of a multipurpose service centre open to citizens; upgrading of the district of science, research, and knowledge of the University of Pavia with the installation of new high-grade environmentally sustainable services.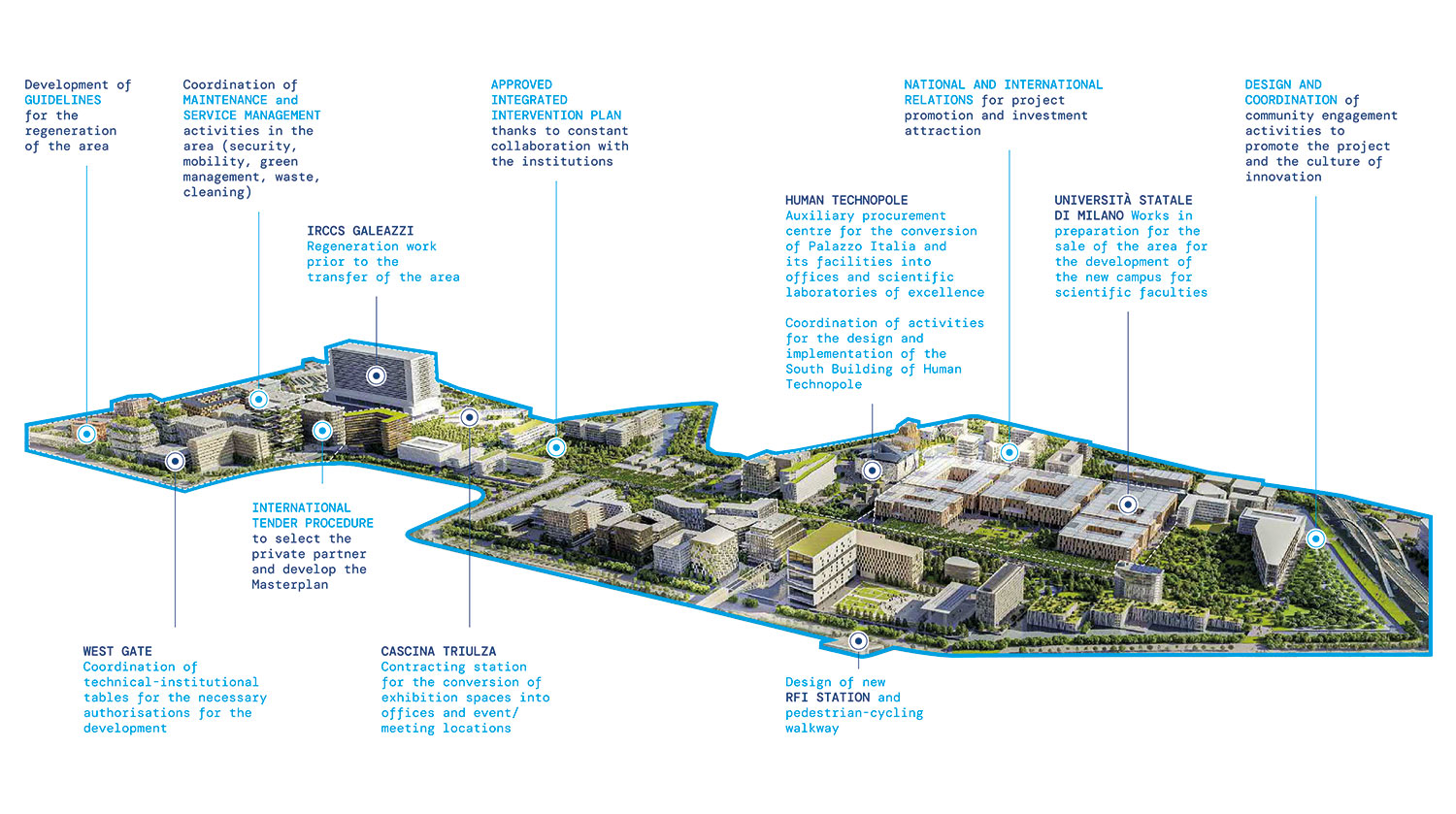 "MIND Milano Innovation District"
Address
MIND MILANO INNOVATION DISTRICT – MILANO
Holding company
AREXPO
Sector
Office, Retail, Residential, Entertainment, Student Housing, Research Labs
Arexpo's pilot project is MIND Milano Innovation District: a district taking form on the former Expo 2015 site, owned by the company, and covering 1 million square metre MIND is a new concept site that will serve as the city's future district and gateway to Europe: an international case study and the country's first big public-private collaboration (Lendlease is the private development partner). MIND is a forward-looking project, aimed at developing a real ecosystem of innovation through an infrastructural platform enabling scientific, economic, and social innovation.
Key concept: knowledge crossover.
MIND is developing two main areas of innovation and research: Life science (health, genomics, biotechnologies ) and Smart cities (carbon neutrality, greentech, mobility, energy.
Square footage
sqm 1,048,000 (private + public)
Square footage private development
sqm 480,000
Timing
2030
WHAT IS MIPIM
MIPIM, the premier real estate event, gathers the most influential players from all sectors of the international property industry for four days of networking, learning and transaction through premium events, conferences and dedicated exhibition zones.
GET IN TOUCH
Bees Communication
Via del Piombo, 4
40125  Bologna (BO) – Italy
Ph. 051 1998 6650
info@beescommunication.it
P.IVA 03218451205